The Three Crosses (Lithuanian: Trys kryžiai) is a monument in Vilnius, Lithuania, designed by Polish–Lithuanian architect and sculptor Antoni Wiwulski in 1916. It was constructed in Kalnai Park on the Hill of Three Crosses in 1916, in the place where the three wooden crosses used to stand at least since 1636. The wooden crosses collapsed in 1869 and tsarist authorities did not allow for them to be rebuilt. The new monument by Antoni Wiwulski was covertly erected in 1916.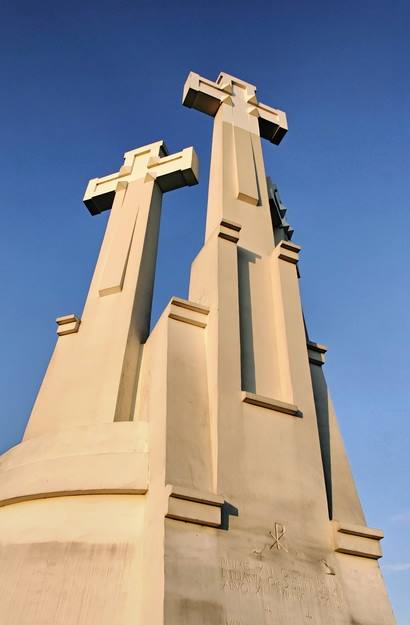 In 1950, following the instruction of Soviet authorities, the Three Crosses in Vilnius were destroyed. Residents of Vilnius wanted them to be restored, so in 14 June 1989, with the resistance of the authorities, three crosses were rebuilt on the old foundation. Archaeologists have unearthed the old concrete cross debris – some of them are exhibited at the foot of the Hill of the Three Crosses, while other parts are casted into the newly casted crosses.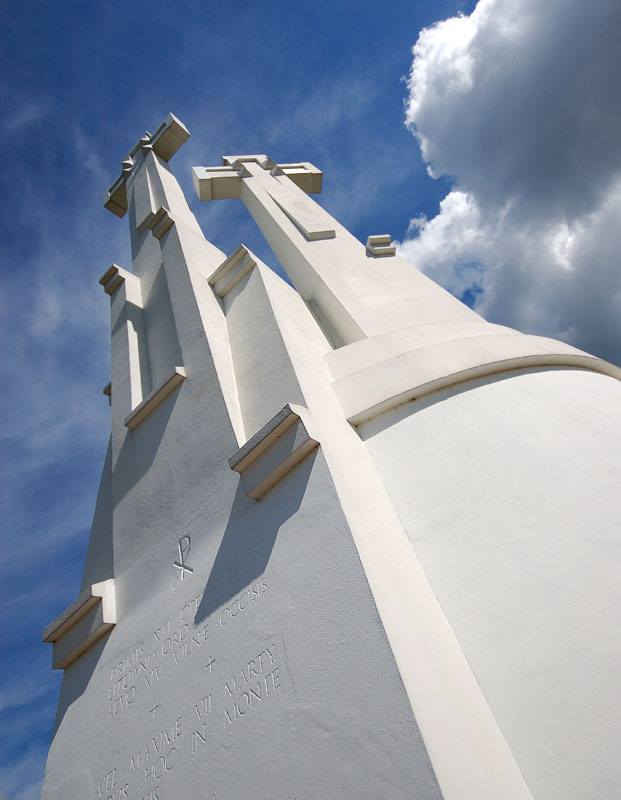 The Three Crosses are constructed of concrete, painted in white. The rebuilt crosses now are 1.8 metres (5 ft 11 in) higher than those of 1916. The fractured remains of original crosses are on display on an elevation several meters below. A spectacular panorama of the Vilnius Old Town can be observed from the top of the hill.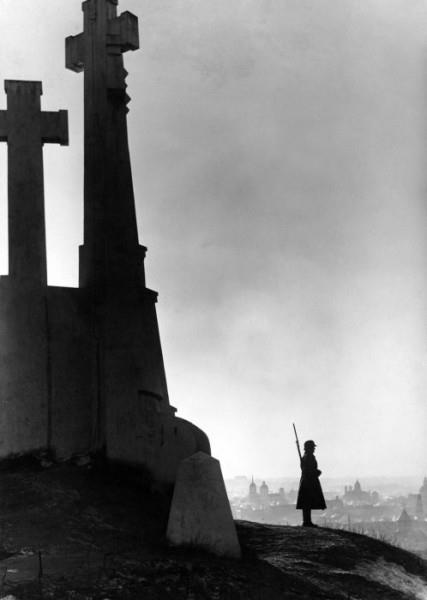 The origins of the monument are explained in a fictitious legend, written in the Bychowiec Chronicle, among others, according to which seven Franciscan monks, who were invited to Vilnius from Podolia by Petras Goštautas, were tortured to death – crucified and thrown into the Vilnia River on 4 March 1333 by local pagan inhabitants. The chapel was erected on the spot where they died and the crosses were added later on.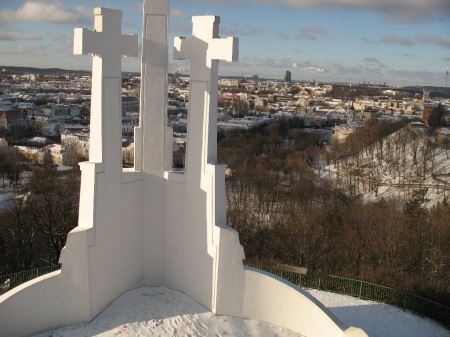 The factual background of the legend is a story regarding two murdered Franciscan friars who came to Vilnius to spread Christianity, that was first presented in Chronica XXIV Generalium, written before 1369. The events probably took place around 1340; therefore some eyewitnesses could still have been alive. According to the story, Franciscan friar's Ulrich's preaching angered townspeople. He and his companion Martin were seized and brought before Grand Duke of Lithuania Gediminas, who ordered the friars killed. Ulrich was tortured and his body tossed into the river. Martin's body was rescued by Gediminas' sister, an Orthodox nun. She buried Martin in a monastery where she lived in.
Source:http://www.wikipedia.org
(Visited 177 times, 1 visits today)