All Saints' Day and All Souls' Day (November 1 and 2) are the days, when many Lithuanians go to cemeteries to put up candles on the tombs of their loved ones. All Saints' Day is one of the most important holidays and is a public holiday in the official calendar. These are quiet and peaceful days and have nothing to do with Halloween, the feast of hosts, celebrated in other parts of the world.
The ritual traditions of the dead were directly related to peoples' belief that on that day the souls of the dead return to earth, to their homes. During this feast, people gathered in cemeteries, where women sobbed and lamented over their men, remembering their valor, honesty and good habits. Afterwards the women prepared plentiful suppers.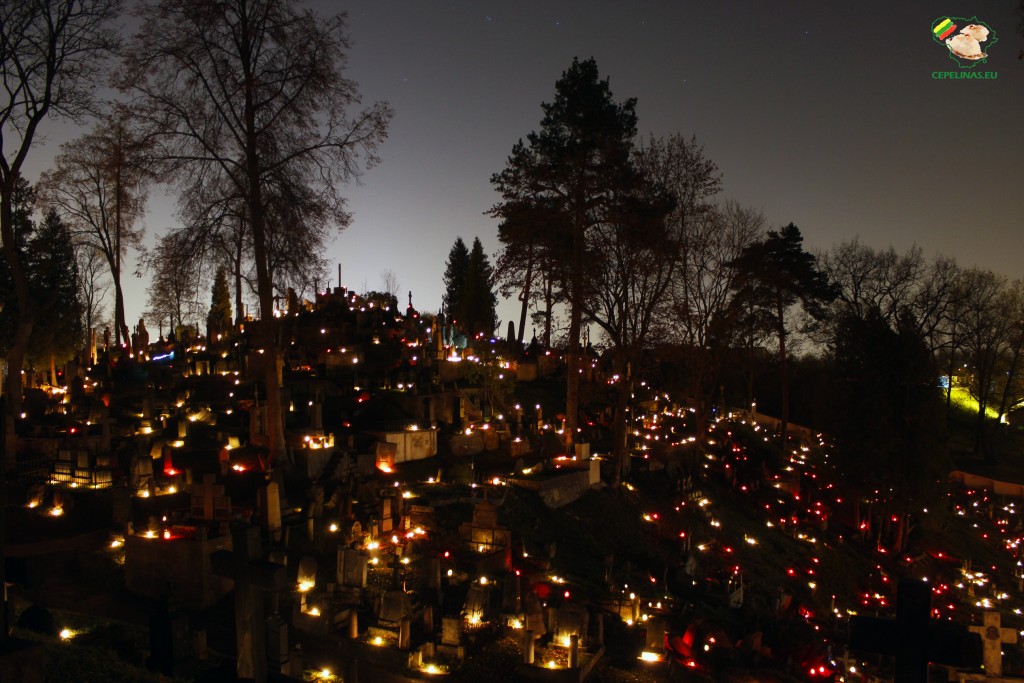 The beliefs of All Souls' and All Saints' Days are:
On the day of All Souls, the souls of the dead come to visit the living, asking that the living pray for them.
One time before All Saints' Day, a homemaker swept the house and sprinkled with sand. In the morning sees the floor covered with small footprints, but there are no small children in the house. Therefore, she understood that the souls of dead children had come into the house.
If mother went to the cemetery at midnight on All Souls' Day, she would see her dead children.
On All Souls' Day, churches are filled with souls of the dead. That day, the souls are not burning in hell. They are happy. However some, whose mothers are wailing, these souls arrive wet, soaked by earthly tears. No need to cry for the dead.
On the Eve of All Saints' Day, one does not go visiting or walking through villages because all roads and the countryside are filled with souls of the dead. There can also be some mean souls.
On All Souls' Day and in the evening no ashes or garbage should be taken out, because the souls can be witched by these items.
If it rained on the night of All Souls' Day, there will be numerous deaths in the following year.
If the sun did not shine on All Saints' Day, the following year will be filled with misfortunes.
If on All Saints' Day, trees are still fully covered with leaves, it will be a year of black death.
If a child is born on the eve of All Souls' Day, when in life he attends a funeral meal, he will see evil souls.
Sources: https://www.lietuva.lt/en/lifestyle/traditions, http://ausis.gf.vu.lt/eka/customs/velines.html, http://wikipedia.org
(Visited 3,567 times, 1 visits today)