The Cathedral of Vilnius (Lithuanian: Vilniaus Šv. Stanislovo ir Šv. Vladislovo arkikatedra bazilika) is the main Roman Catholic Cathedral of Lithuania. It is situated in Vilnius Old Town, just off Cathedral Square. Dedicated to Saints Stanislaus and Ladislaus, the church is the heart of Catholic spiritual life in Lithuania.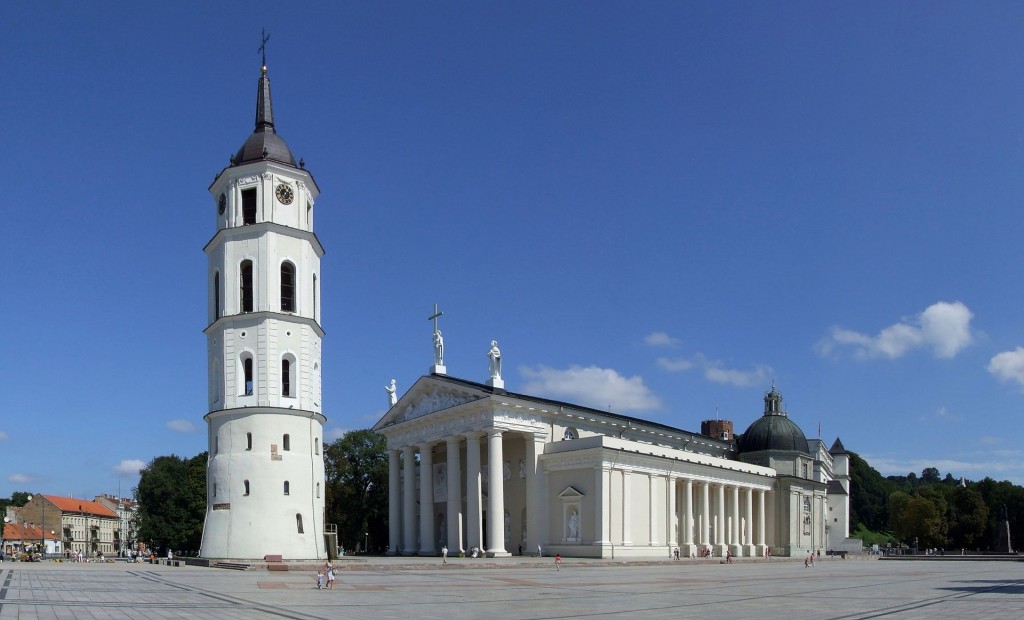 It is believed that in pre-Christian times, the Baltic pagan god Perkūnas was worshiped at the site of the cathedral. In 1387, Lithuania was officially converted to Christianity. The construction of the Gothic Cathedral was began immediately after that. During the preparations for his 1429 coronation as King of Lithuania, Grand Duke Vytautas built a significantly larger Gothic Cathedral in its place. The walls and pillars of his Cathedral have survived to this day. Vytautas' Cathedral had three naves and four circular towers at its corners. In 1522, the Cathedral was renovated, and a bell tower was built on top of the Lower Castle defensive tower. In 1529, the Crown Prince and future King of Poland, Sigismund II Augustus, was crowned Grand Duke of Lithuania in the Cathedral.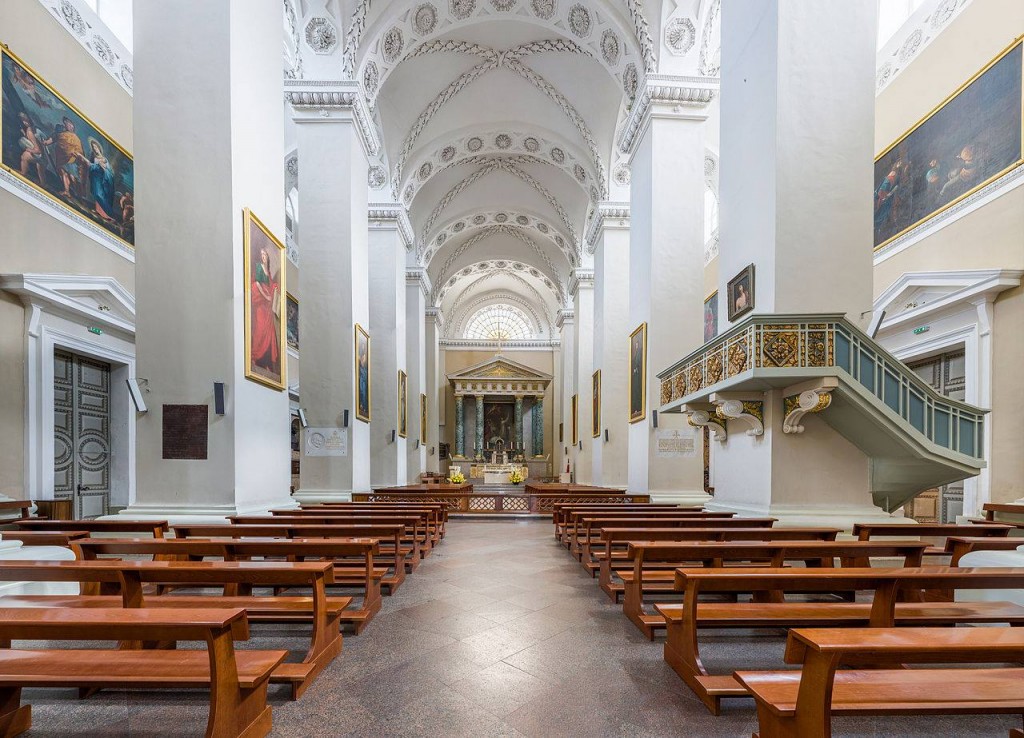 In 1769 the southern tower collapsed, destroying the vaults of the neighboring chapel and killing 6 people. After the damage, Bishop of Vilnius ordered the reconstruction of the Cathedral. The works were completed in 1783, and the interior was completed in 1801. The Cathedral was reconstructed to its present appearance according to the design of Laurynas Gucevičius in the Neoclassical style. The church acquired a strict quadrangular shape common to local public buildings. The main facade was adorned with sculptures of the Four Evangelists by Italian sculptor Tommaso Righi. Between 1786 and 1792, three sculptures were placed on roof of the Cathedral – St. Casimir on the south side, St. Stanislaus on the north, and St. Helena in the center.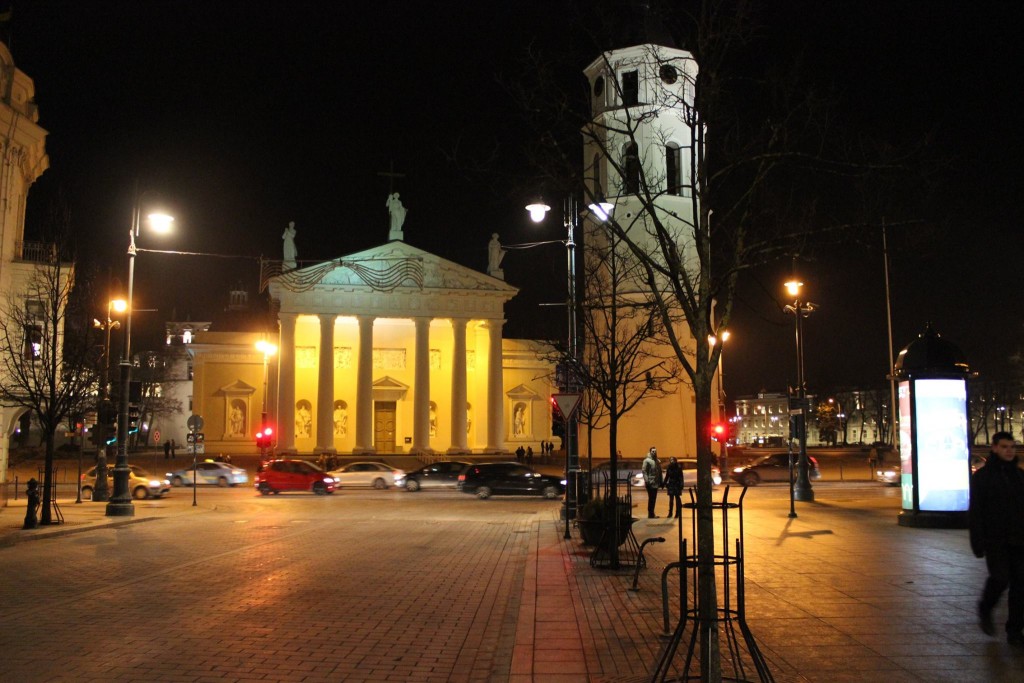 The coronations of the Grand Dukes of Lithuania took place in the Cathedral. Inside its crypts and catacombs are buried many famous people from Lithuanian and Polish history: Grand Duke Vytautas (1430), his wife Anna (1418), his brother Grand Duke Žygimantas (Sigismund) (1440), his cousin Grand Duke Švitrigaila (1452), Saint Casimir (1484), Grand Duke and King of Poland Alexander Jagiellon (1506), and two wives of Grand Duke and King of Poland Sigismund II Augustus: Elisabeth of Habsburg (1545) and Barbora Radvilaitė (Barbara Radziwiłł; 1551).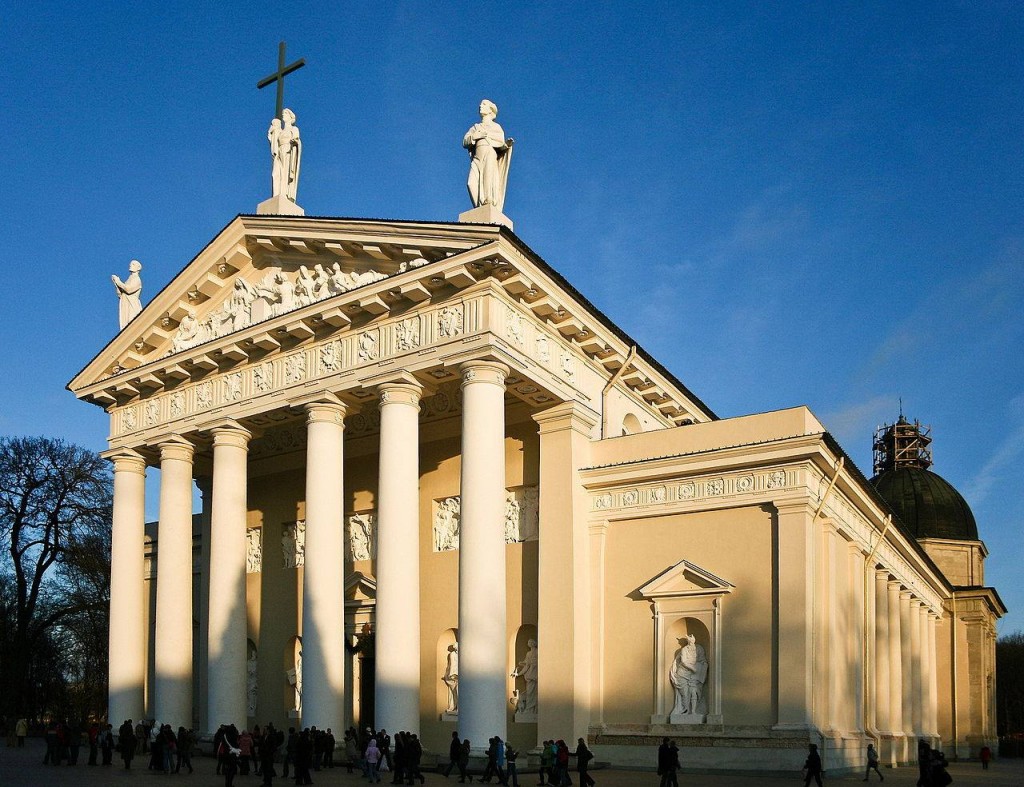 Inside the Cathedral, there are more than forty works of art dating from the 16th through 19th centuries, including frescoes and paintings of various sizes. A fresco dating from the end of the 14th century, the oldest known fresco in Lithuania was found on the wall of one of the cathedral's underground chapels.
Source:http://www.wikipedia.org
(Visited 783 times, 1 visits today)